A Tradition of Innovation

Our History
While our history as a provider of senior living communities goes back more than 100 years, Ebenezer Development has made a name for itself as the leader in innovative housing choices for seniors at various life stages. As a pioneer in the management of senior housing cooperatives, Ebenezer is currently managing more than 60 member-owned cooperatives throughout the Upper Midwest, operating in Iowa, Wisconsin and Nebraska. Bearing a rich history, beginning with the founding of the first senior living cooperative in the nation at 7500 York in Edina, Minnesota, Ebenezer has the experience, resources, and support it takes to create successful member-owned cooperatives.
As one of the largest senior housing provider in the U.S., Ebenezer is pleased to announce the launch of a new division and brand, Estoria Cooperatives, a collection of member-owned cooperative communities designed exclusively for adults 62 and over, with the very first cooperative development project located in Lakeville, Minnesota.
SOUND INVESTMENT.
NEW INNOVATIVE DESIGN.
Developed by Ebenezer, Minnesota's leader in housing solutions for seniors, Estoria Cooperatives combine Ebenezer's rich history with the promise of an innovative, bright future for younger seniors. Since the first cooperative opened more than 40 years ago, cooperative living has grown in popularity with adults 62+. Combining all the advantages of home ownership with the maintenance-free lifestyle of renting and the support of an engaged community, cooperatives provide a unique opportunity to live life to the fullest.
Live Your Best Life
The ownership aspect and participatory lifestyle of a cooperative set it apart from other forms of housing for younger seniors. Member-owners of a cooperative are the decision-makers. Ebenezer Development provides professional guidance to various supporting committees and a member-elected board of directors that receives training to serve in the best interest of the cooperative community. Joining an ownership group and a community of peers with similar interests, and working together toward common goals for the betterment of the community, builds a spirit of unity, creating friendships that last a lifetime. Welcome to Estoria Cooperatives.
Cooperative Comparison

What's the Difference?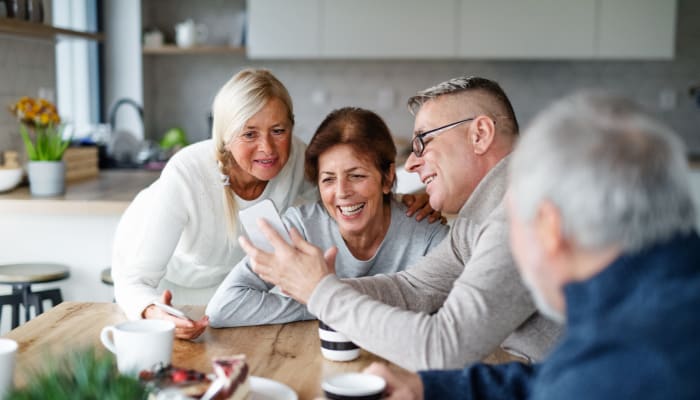 Co-Op

Ownership
Everyone has ownership interest in the entire property together. The cooperative holds the title to the master mortgage.
Condo

Ownership
Everyone owns a divided piece of the property, holding individual titles. Owners take fee title or have sole ownership of a dwelling unit.
Renting

or Buy-In
No ownership. The building is owned by a third party and charges tenants to live there. Buy-ins may retain a portion of the upfront cost upon transfer/re-sale.
See the Possibilities of New
The interest in cooperatives has grown rapidly over the years. Cooperatives meet the needs of younger seniors who are looking for an easier place to live but don't need, and aren't ready to pay for, extensive services, who want to retain the benefits of ownership, and who want to live in a home that will allow them to age in place. Although housing cooperatives have evolved over the years, the design concepts pioneered by Ebenezer at 7500 York – including full-size homes with interior flow that are adaptable as owners age, plus extensive common rooms for leisure, all housed in a building owned and operated completely by its member-residents – have provided a highly desirable response to those needs.
Invest in Your Future
Taking a state-of-the-art approach to building design, Estoria Cooperatives works with top architects and development partners to create innovative and thoughtfully designed living spaces. Each amenity is designed with the needs of those 62+ and over in mind, providing carefree living that is simple, secure, and enjoyable. You can look forward to:
Featured Community
Coming Soon! Interested in Learning more?
Add your name to our Interest List today and be the first to hear more about our
cooperative community.


Register here to join our Interest List: